來自未來的朋友發酵晚宴 Fermantaurant
en Guete
楊偉林 Wei Ling Yang

The mind of a greenhous 施惟捷 Shih Wei Chieh

Kubume
Maya Minbder

YSYP
Victoria Manganiello
「來自未來的朋友發酵晚宴 Fermantaurant」受工藝中心補助計劃是由四位藝術家楊偉林、施惟捷和國外活動參與者Maya Minder, Victoria Manganiello在關於「食」、「廚房藝術實驗室」、「社會行動」等題目下的聯合展出,四人以各自不同的觀點來詮釋食物、工藝、材料設計和社會行動之間的關聯。

"Having Friends in the Future — Fermantaurant" project was funded by NTCRI, a group show of four artists including Wei Lin Yang, Shi Wei Chieh, Maya Minder, Victoria Manganiello. The discussion during the online event HFF was initiated by several topics such as "food art", "kitchen laboratory", "social action" that lead several works which is presented here. A collective aspect intepretated by the four illustrate the relations between food, craftsmanship, material science and their participance in social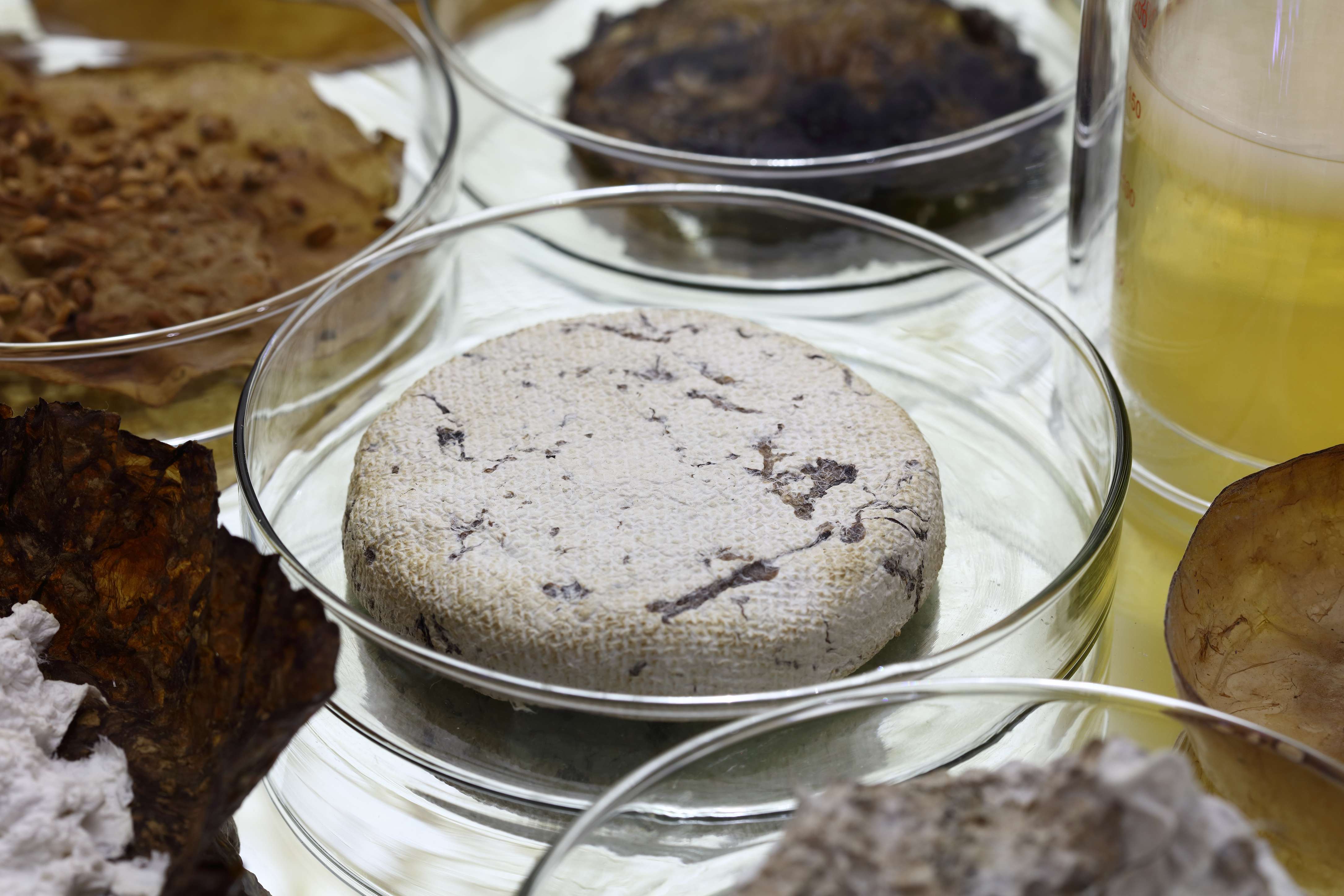 en Guete
楊偉林

250x100x300cm
構樹纖維、紅茶菌膜、康普茶、紙線、玻璃、鏡子、木支架

en Guete
Wei Ling Yang

250x100x300cm
paper mulberry fiber, kombucha cellulose, paper threads, glass, mirror, wooden frame.
發酵的餐桌。交換的滋味
懸念的語言。隔離的彼此
發酵起源於一個偶然的時機,一次事故,一件蠢事,或是一次遺忘。
感染也是。
在全球疫情時代,我們特別感受到全球與地域、群體與個人、社交與孤立,然後也因理解而共生。
這些也是紅茶菌帶給我們的學習。
這次我使用的康普茶菌溯源來自瑞士,經眾人之手幾經流轉傳遞,用不同地方或不同品種的茶釀製,就會產生不同的風味、顏色、香氣,被覆蓋或彰顯,甚至改變了菌種的基因。
文化亦然。
那張空懸在桌上、倒映在鏡中的白色桌巾是用構樹纖維搥打而成,上面是由瑞士德文「En Guete」(用餐前的祝福語,意思是請好好享用)構成的筆畫線條。是我住在瑞士的藝術家朋友家中時,唯一學到的餐前祝禱語。如今這件象徵友誼與餐聚的桌巾被高高懸起,如鏡花水月般,取而代之的是只映照自己的鏡面桌子,以及上面用實驗培養皿裝盤的菌膜食物,孤立且區隔,在冷冽中繼續生長....
"The fermented dinning table, the taste of exchange, the suspense in words, the isolated us."
Fermentation originated from a chance, an accident, a stupid thing, or a forgetting.
The infection is too.
In the era of global epidemics, we particularly feel global and regional, group and individual, social and isolation, and then symbiosis due to understanding.
These are also the lessons that Kombucha brings us.
The Kombucha I used this time is traceable from Switzerland. It has been passed through the hands of many people. When brewing with different places or different varieties of tea, it will produce different flavors, colors, aromas, which are covered or highlighted, or even changed. The gene of the strain.
The same goes for culture.
The white tablecloth that hangs on the table and is reflected in the mirror is beaten with paper mulberry fiber, and it is made of Swiss German "En Guete" (a greeting before meal, which means please enjoy it) Strokes lines. It was the only pre-dinner prayer I learned when I lived in the house of an artist friend in Switzerland. Now this tablecloth, which symbolizes friendship and meal gathering, is hung high, like a mirror, replaced by a mirrored table that only reflects itself, and the bacterial membrane food on it with experimental petri dishes, isolated and separated, in Continue to grow in the cold...
---
溫室之心
施惟捷

溫室模型 106x57x146cm
四片太陽能版 30x30cm
材質 materials / 碳纖維、3D列印材、二氧化鈦奈米粉末、黑枸杞、黑豆、薯榔、胭脂樹紅、FTO導電玻璃、老窗木框、雙輸出幫浦、碘電解液、石墨烯粉末

The Mind of a Greenhouse
Shih Wei Chieh

greenhouse model 106x57x146cm
4 pieces of DSSC 30x30cm
carbon fiber, 3D printing, titanium dioxide nano powder, lycium ruthenicum, black soy bean, shulang yam, annatto, FTO conductive glass, recycled window, pump, iodine electrolyte, graphine

這是一個正在進行的社區合作計劃,我自2018年8月至11月與來自泰國的氣候工程師Wiriar Rattanansuwan自願加入了這個義工計劃。計劃目標是在青海囊謙建設一座溫室模型,在冬季也能抵禦-20℃至-30℃的溫度。該站點的海拔高度約為3,700米;主要任務是為位於32°31'45.2"N 96°03'05.2"E的紮西格森學校收容的孤兒提供常年蔬菜。該項目的另一個主要任務是研究慈善項目和藝術、科學項目的共地,創新一個跨學科的生產系統。另外我相信當地社區合作的創新項目會引起更多對這些發展中地區情況的關注。

這個作品模彷了當時建造溫室的外型,玻璃是用染敏太陽能技術製作的發電玻璃。染敏電池的發電原理需要植物染色二氧化鈦晶體的參與,三片玻璃分別使用黑豆、薯榔、黑枸杞染製。電池的碳極則使用石墨稀漿料網版製成,圖案是由扎西格森學校創辦人蒼薩貢葛仁波切提供的三個藏字,由左到右發音為hom, drom, om,分別代表聲音、生命長度、磁場的方向。

This is an on going project, I joined this charity project voluntarily from August to November 2018 with Wiriar Rattanansuwan, a climate engineer from Thailand. The project goal is to build a greenhouse in Nangqen, Qinhai which can resist -20Cº to -30Cº even in winter time in Nangqen. The altitude of the site is ~3,700 meters; the main task is to provide vegetable year-round for for the orphan children sheltered by the Tashi Gatsen school located in 32°31'45.2"N 96°03'05.2"E. Another main task of this project is to research a common ground for both charity project and art, science project, to innovate a transdiciplinary production system. Also I believe the innovative project collaborating with the local community will bring more attentions to the situation of these developing areas.

This work was built to mimic the appearance of the greenhouse we built in Tibet, the windows are built as dye sensitized solar cell (DSSC). The power generation principle of the DSSC requires the participation of plant dyeing and the sintering of Titanium dioxide. The three windows are dyed with black beans, lycium ruthenicum, and shulang yam. The carbon electrode of the battery is made of graphene paste, in shape of three Tibetan calligraphy provided by Tsansar Kunga Rinpoche, the founder of Tashi Gatsen School, pronounced hom, drom, om from left to right, representing respectively Sound, length of life, direction of magnetic field.

---
攪伴你的鍋:用食譜創造改變
維多利亞曼加尼亞

20x15cm
網路活動、數位輸出

You Stir The Pot Recipes for Change
Victoria Manganiello

20x15cm
online event, digital prints


「攪拌你的鍋:用食譜創造改變」是一系列的食譜,每一個都融合了食物準備說明和社會變革說明,我們歡迎您為這個不斷發展的項目做出自己的貢獻。我們希望您選擇一個接近您自己的個人故事和文化背景的食譜,並從本質上重新編寫它或對其進行註釋以包含社交信息,並以發酵、固化、煮沸、混合、切碎等食物製程內容作為隱喻手法,做為探索社會行動或變化的手法。
"You Stir the Pot: Recipes for Change" is a collection of recipes that each blend instructions for food preparation with instructions for social change and we welcome you to make your own contribution to this growing project. We ask that you take a recipe that feels close to your own personal story and cultural context and essentially re-write it or annotate it to include a social message as well, drawing on things like fermentation, curing, boiling, mixing, chopping, etc. as metaphors to explore aspects of action or change.
食譜收集網站 submit your recipe here!
---
Kombume
瑪亞曼德

6分45秒
循環錄像

Kombume
Maya Minder

duration: 6'45''
video loop

KombuMe是一段成為養殖紅茶菌替代皮革專家的過程的抽象反映。它是在一年內拍攝的,它可以被視作為一種回應,關於這段時間中我和我所處理的細菌纖維材料之間的關係。影片中以敏感觸摸手勢表現和非人類的菌種的相處。在製作和處理材料的過程中,我在不同的時刻中想到了關於觸摸皮膚的想法:由於Covid-19,其他人和人的皮膚接觸變得罕見且幾乎教條化。觸摸和感覺作為感知和感覺工具的願望受到衛生法規和政府制裁的限制。以此錄像為起點,作為對紅茶菌皮革大規模生產的支持,這亦是一種以藝術方式記錄該大規模生產過程的方式。
攝影:瑪亞曼德、西夢近畿
編輯:米格爾·布恩羅斯特羅
音樂:環境錄音是在一個只由女性經營的點心餐廳中錄下的,當時我正在和一群人談論發酵過程。
音樂是橫田進的《Cloud Hidden》專輯中的Spectrum of Love。
KombuMe is a abstract reflection on the process of becoming expert in growing kombucha leather. It was shoot in a period of one year as a answer to the intime relation I held and became with the material of bacterial cellulose, shown through sensitive gestures of touch and encounter of non-human. While doing and processing the material the ideas of touching skin came to my mind in various moments. Due to Covid-19 the touch of other humans and peoples skin has become something that is rare and almost dogmatized. The desire to touch and to feel as a tool of perception and feeling is limited by hygiene regulation and sanctions by government. Taking this video as a starting point as a sidedish for the larger production of kombucha leather this was also a way of documenting the process in an artistic way.
Filmed by Maya Minder and Simone Kinki
Edited by Miguel Buenrostro
Music: filed recordings of a dim sum restaurant held by women only, while I was talking with a group on fermentation process, Susumu Yokota, Spectrum of Love from album Cloud Hidden.
影片連結
video link
---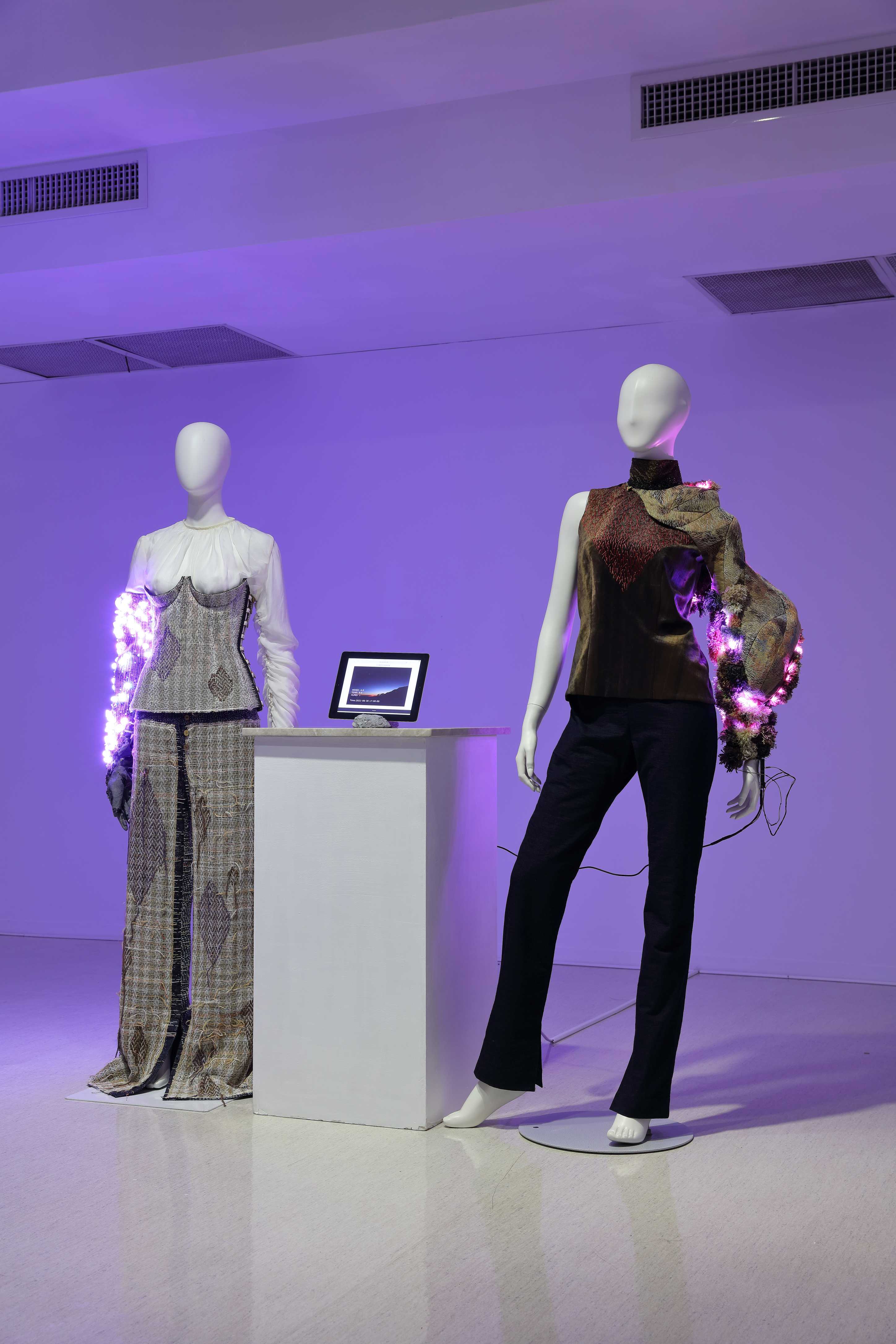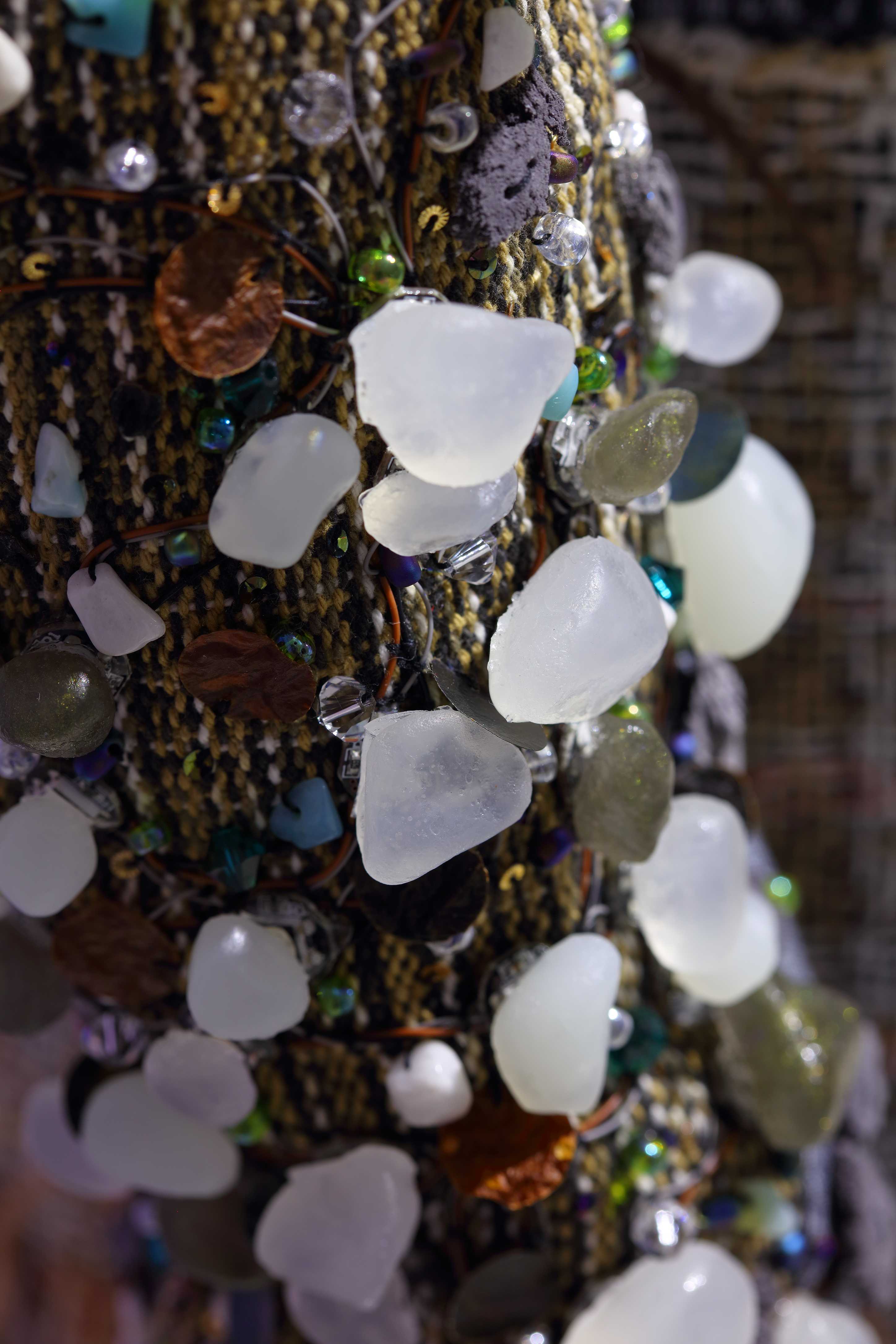 賽博花園
陳翊羽
陳奕竹

女裝手套、女裝36號
(手套部分)棉紗線、電子元件、丹寧布、樹脂、玻璃珠、亮片、施華洛世奇水晶珠、天然石、紅茶菌、石粉黏土、感溫變色粉末

(袖子部分)天然染棉、羊毛、亞麻、大麻紗線,天然染繡線、蠶絲布、丹寧布、電子元件、造型襯

Cyber Garden
Yiyu Chen
Yi-Chu Chen

Womenswear glove, womenswear size 36
(The glove) Cotton yarn, electronic components, denim fabric, resin, glass beads, sequins, Swarovski crystal, natural stone beads, kombucha foil, natural stone clay, thermochromic microcapsules

(The sleeve) Natural dyed cotton, wool, linen and hemp yarn; natural dyed embroidery thread, natural dyed silk fabric, denim fabric, electronic components, fusing

Cyber Garden為一映照遙遠大自然的人造小自然,藉由同時存在於當下和虛擬空間裡的此地和遠地,探討人與自然的關係。數據轉換至實體物件過程隱喻經由網際網路認識、理解自然,並和自身(有限的)經驗結合,所產生的多重且不連續的、對自然的認知過程。何謂自然?在以人類為主體對自然進行描述、分析與操縱時,我們認知的是自然的本質、還是人類發明的自然呢?
Cyber Garden is a set of wearable objects that representing simultaneously current location and certain environmental databases captured from distant location. The color of LED lights attached to these objects is controlled by an Arduino board that capturing databases of Hehuanshan Observatory on the internet through wifi. The appearance of these objects is inspired by the landscape and modified simultaneously by current weather change of Hehuanshan, these captured databases is being presented on the website in the same time.Reflecting the faraway natural environment, Cyber Garden is a man-made minuscule Nature. Being existing in the present and virtual space in the same time, this project aim to discuss the relationship between Human and Nature. The transition from data to actual object is a metaphor of the way how we acknowledge and identify Nature through the internet: that we merge the multi-layered, discontinuous cognition with our own limited experience. What is Nature? As we interpret, analyze and manipulate Nature from a human-centered angle, is the Nature we recognized the Nature itself, or a Nature that we invented?
---
---
WORKER Music Box
林愛誼

42x42x14cm
楮皮紙漿、現成物

WORKER Music Box
Lin Ai Yi

42x42x14cm
paper mulberry pulp, found objects, paper
「WORKER」music box,一個會⾃⼰施工的工具箱。在⾓落,有個施⼯的吵雜聲,往聲音的⽅向走,是個箱子,⾃己發出了吵雜施工的聲響。好奇的⼈們將它打開,聲⾳突然停⽌了,裡頭裝著猶如陳年沒碰的工具們,螺絲、錘⼦、老虎鉗、釘子、板手......都在裡面。 這些老工具只要一觸碰它們,就會發出各種有趣的聲響,彷彿在告知,他們還很健朗,隨時都能上工。使用完後,再將蓋⼦蓋上,⼜再發出吵雜的聲響,彷彿他們又在裡面動工,隨時準備上場。

"WORKER" music box, a box that can be freely constructed. When I dropped the tool, the noise of the construction was heard, and when I walked in the direction of the sound, it was a box, and the noise of construction was spontaneously emitted. When people opened it, the sound suddenly stopped, and it contained tools like us that hadn't been touched for years. Screws, hammers, pliers, nail boards, hands... are all inside. As soon as you touch them, they will make all kinds of sudden noises, a lot of notifications, they are healthy and ready to go to work. After use, put the sub-caps on again, and then make a stray noise, and they will start a lot of work inside, ready to play at any time.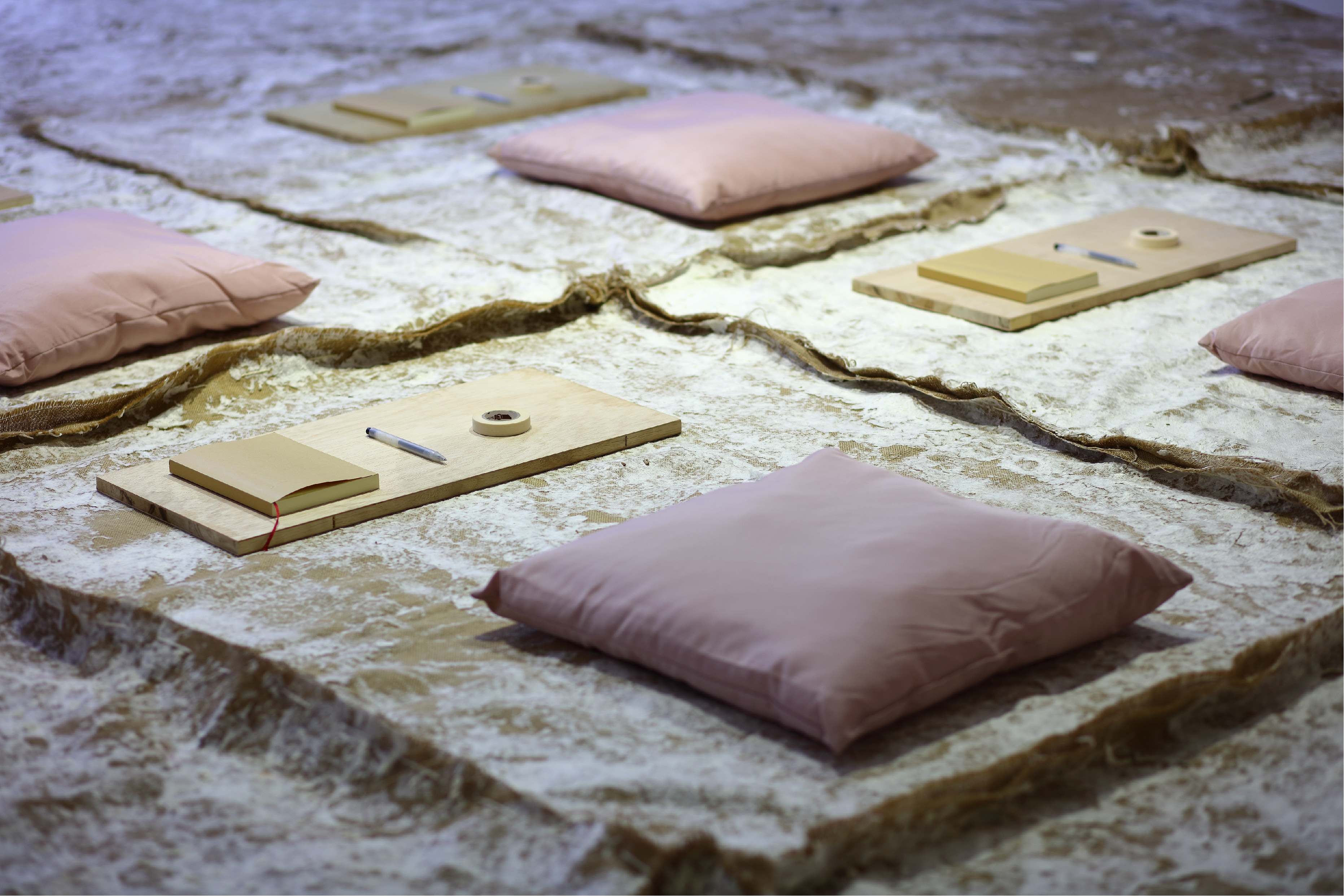 鳴缸
連威棣

150x150x250cm
藍染、苧麻布、電子裝置

HMM-寂靜漫行
王禎鈺、詹哲宇

依現場而定
紙漿、麻布、麻線、枯葉、木製平台、木棍、書寫用具(筆、筆記本、紙膠帶)

The Canting Tank
Wei-Ti Lien

150x150x250cm
indigo dye, ramie fabric, electroncis

HMM-Roaming in Silence
Chenyu Wang
Zhan Zheyu

site-specific size
paper pulp, linen fabric, linen threads, dead leafs, wooden low stool, wooden stick, pen, notebook, paper tapes

寂靜漫遊 HMM (2020)

二零二零停滯的一年,
我們戴上了口罩維持距離,
搖擺著人與人之間的距離,
搖擺著之前與之後的肯定,
而在疑問句裡停擺也幸運。

在世界重新啟動之前,
邀請參與者進入安全的黑,
獨自面對暫停時的增或減,
無需偽裝他人眼裡的角色,
這ㄧ刻誠實的面對著自己。
寂靜裡關閉與外界的聲音,
聆聽肢體與內心裡的細微,
行走於黑暗中未知的軌道,
漫步、沈思、等待、前行,
無目的性的感受踩踏的地。

將身體安置,將煩躁書寫,
在字裡行間內任意義飄散,
浮出筆下無法確定的確定,
觀看他人,進入圓的中心,
等待自身,成為圓的中心

Silent roaming HMM (2020)

2020 was a stagnant year,
we put on masks to maintain our distance,
swayed the distance between people,
swayed the affirmation before and after,
and we were lucky to stop in the interrogative sentence.

Before the world restarts,
I invite participants to enter this darkness with caring,
encounter the increase or decrease during the suspension alone,
without disguise,
face yourself honestly at this moment.
keep yourself away from the outter noise,
listening to the subtleties of the body and heart,
walking on unknown tracks in the dark,
strolling, contemplating, waiting, and moving forward,
feeling the ground without purpose.

Settle your body down, put your irritability in written words,
let the meaning drift between the lines in the words,
emerge from the uncertain determination in the pen,
watch others to enter the center of the circle,
until yourself becoming the center of the circle.
幽光
黃文娟、黃武顯

藍染 18x28cm
原色 22.5x28
構樹皮、繡線、SMD LED、滾珠開關、天然漆、竹、藤皮

Faint Light
Huang Wen Juan

Huang Wu Hsien
indigo dyed one: 18x28cm
original color: 22.5x28cm
paper mulberry bark, embroidery threads, SMD LED, ball switch, nature lacquer, bamboo, rattan
以閱讀及轉譯作為出發點,思考我們如何閱讀天然纖維所蘊含的各種訊息,而後又轉譯成何種資訊在這組作品中,繡線及導電材料作為人為介入的手段,透過視覺及觸覺感受纖維的肌理及分布的差異,在樹皮上創造人為的印記,繡出另一道風景隱隱幽光浮於林間微光之中,隱含著無限的可能性。揮扇之中,一片樹皮幻化轉譯出複數解讀。

Taking reading and translation as the starting point, thinking about how we read the various information contained in natural fibers, and then translate it into what kind of information. In this series of works, embroidery thread and conductive materials are used as a means of human intervention, and the fibers are felt through vision and touch. The difference in texture and distribution creates an artificial mark on the bark, embroidering another landscape with a faint light floating in the gleam of the forest, implying unlimited possibilities. While swinging the fan, a piece of bark transforms into a plural interpretation.

Feel Free
謝佳雯

20x20x10cm、28x20x10cm、20x22x10cm
金屬、木竹料、植物纖維、電子零件、乾躁自然素材

Feel Free
Hsieh Chia-Wen

20x20x10cm、28x20x10cm、20x22x10cm
metal, bomboo, plant fibre, electronics, dried nature materials


本次作品的聲音以自然素材發出的聲響作為觸發視覺的媒介。
試圖以此作品作為⾃然與科技的兩種相異材質的媒介物,⾝在科技環境圍繞的我們,又該如何保有並延續屬於⾃然的美好。

The sound of this work mimics the sound of natural materials as the medium to trigger the vision.
Trying to use this work as a medium of two different materials of nature and technology, how can we, surrounded by the technologies, maintain and continue the beauty of nature.