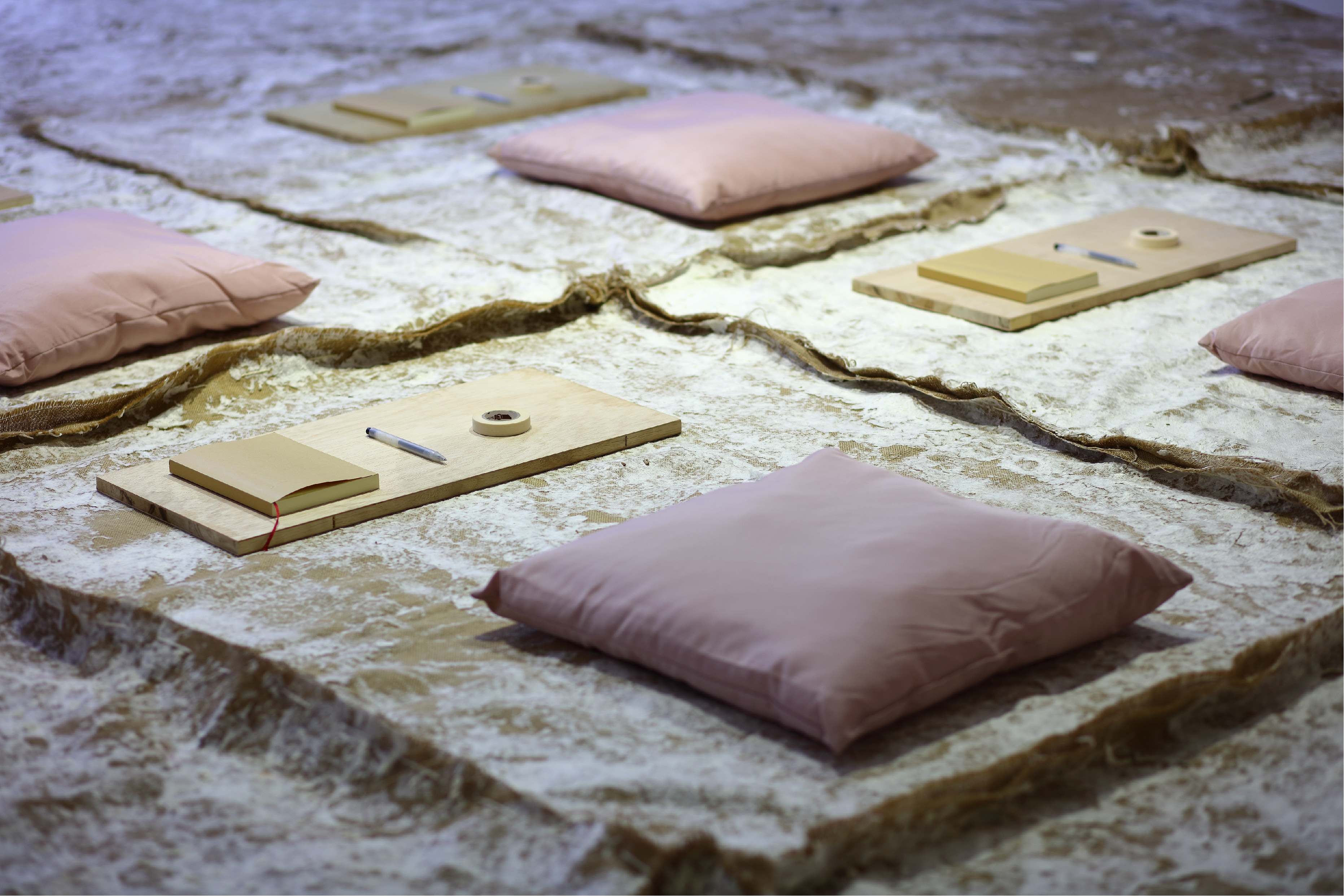 鳴缸
連威棣
150x150x250cm
藍染、苧麻布、電子裝置

HMM-寂靜漫行
王禎鈺、詹哲宇
依現場而定
紙漿、麻布、麻線、枯葉、木製平台、木棍、書寫用具(筆、筆記本、紙膠帶)

The Canting Tank
Wei-Ti Lien
150x150x250cm
indigo dye, ramie fabric, electroncis

HMM-Roaming in Silence
Chenyu Wang, Zhan Zheyu
site-specific
paper pulp, linen fabric, linen threads, dead leafs, wooden low stool, wooden stick, pen, notebook, paper tapes

寂靜漫遊 HMM (2020)

二零二零停滯的一年,
我們戴上了口罩維持距離,
搖擺著人與人之間的距離,
搖擺著之前與之後的肯定,
而在疑問句裡停擺也幸運。

在世界重新啟動之前,
邀請參與者進入安全的黑,
獨自面對暫停時的增或減,
無需偽裝他人眼裡的角色,
這ㄧ刻誠實的面對著自己。
寂靜裡關閉與外界的聲音,
聆聽肢體與內心裡的細微,
行走於黑暗中未知的軌道,
漫步、沈思、等待、前行,
無目的性的感受踩踏的地。

將身體安置,將煩躁書寫,
在字裡行間內任意義飄散,
浮出筆下無法確定的確定,
觀看他人,進入圓的中心,
等待自身,成為圓的中心

Silent roaming HMM (2020)

2020 was a stagnant year,
we put on masks to maintain our distance,
swayed the distance between people,
swayed the affirmation before and after,
and we were lucky to stop in the interrogative sentence.

Before the world restarts,
I invite participants to enter this darkness with caring,
encounter the increase or decrease during the suspension alone,
without disguise,
face yourself honestly at this moment.
keep yourself away from the outter noise,
listening to the subtleties of the body and heart,
walking on unknown tracks in the dark,
strolling, contemplating, waiting, and moving forward,
feeling the ground without purpose.

Settle your body down, put your irritability in written words,
let the meaning drift between the lines in the words,
emerge from the uncertain determination in the pen,
watch others to enter the center of the circle,
until yourself becoming the center of the circle.